Saskia is a radiant loving woman with a warm heart and super positive energy. She can take you with her enthusiasm and push you in the right direction. By struggling with her own pain and finally understanding how old mechanisms work and transforming them into who you really are. Without constantly focusing on what others expect of you.
This in a world where appearance and performance are so important. By being vulnerable and staying in touch, a new beginning will come! Liberation and joy.
Karin Jonkmans, classical homeopathy, Jungian psychology and numerology
Saskia is a great coach. She masters all didactic skills, is a good listener and above all a loving and warm person. I wish everyone a coach like Saskia
Caroline Teeling
 My experience with Saskia is purely positive and in one word great! With her coaching I have been able to make some positive changes in my daily routine that are lasting and contribute to my overall health. In small manageable steps. In addition, Saskia is a positive person. Accessible and very pleasant to interact with. I can therefore wholeheartedly recommend her.
Nicole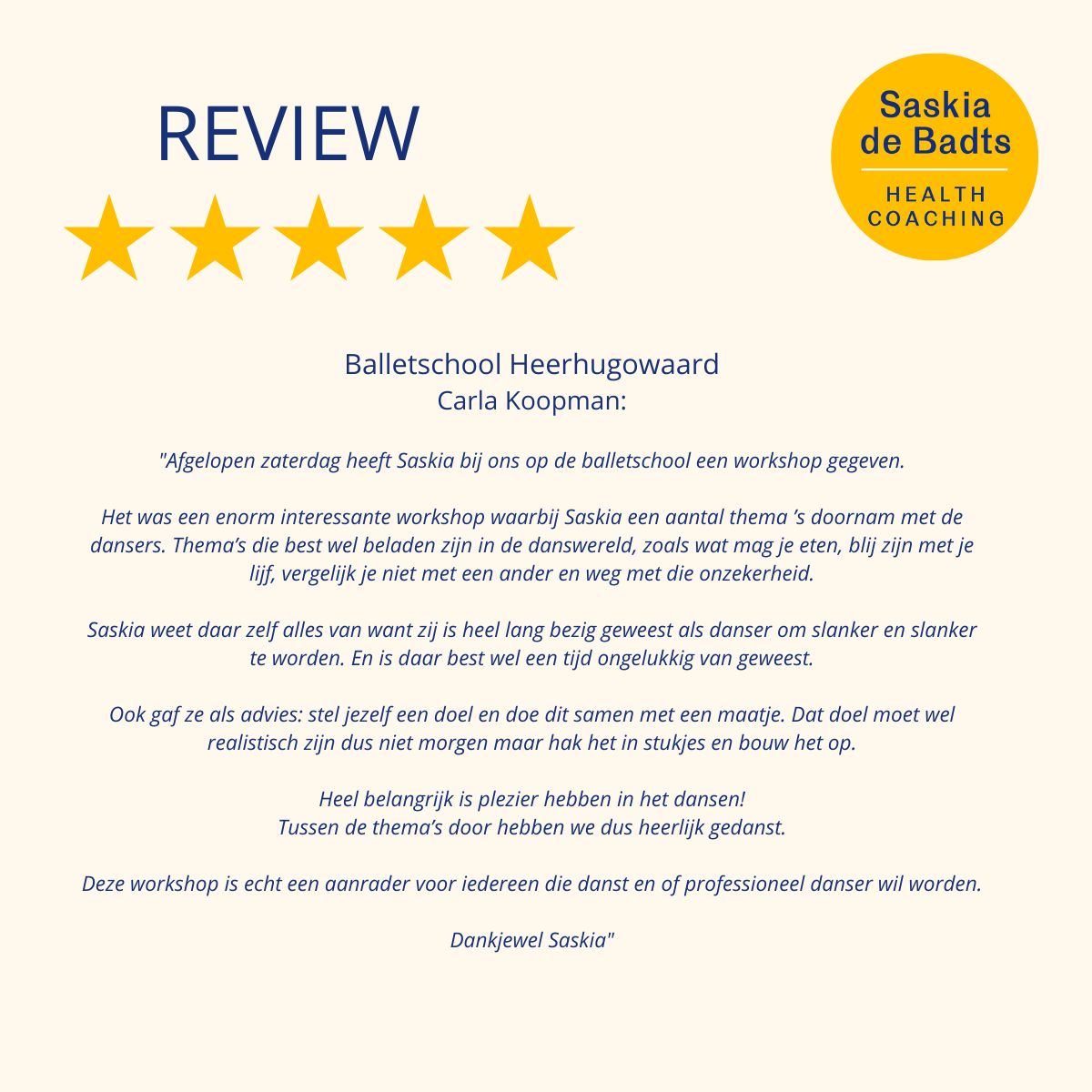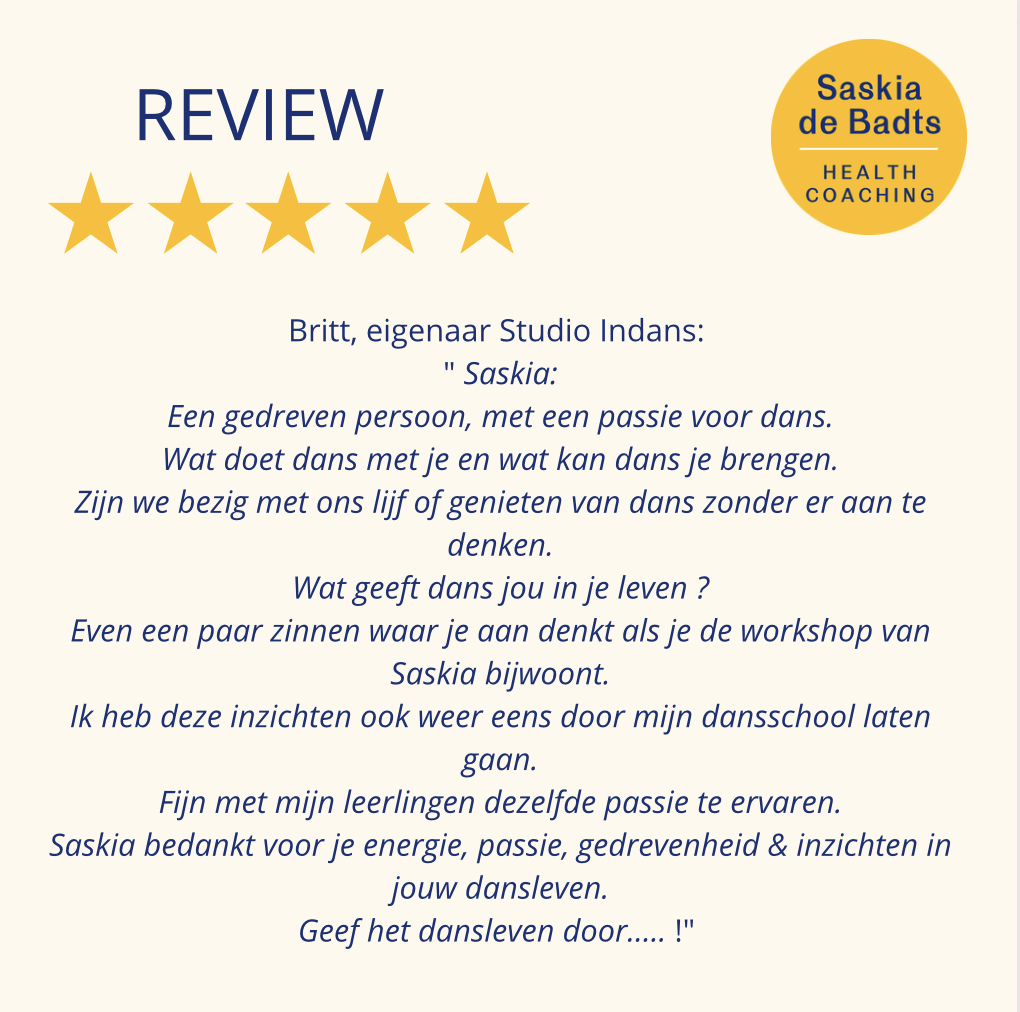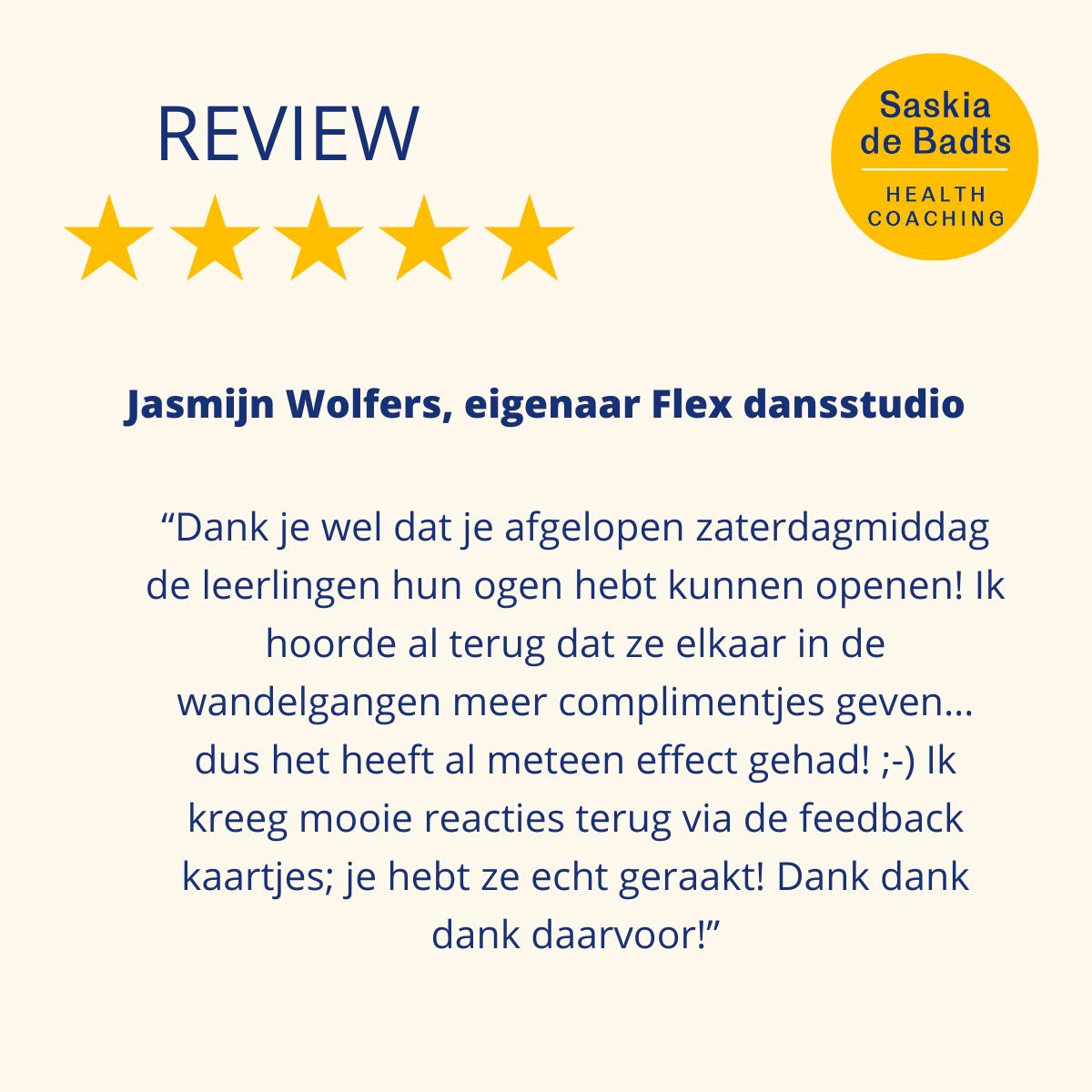 "As a peak performance coach and professional athlete who has struggled with an eating disorder myself, I can attest that Saskia De Badts is a talented and authentic wellness coach. She has a deep understanding of personalized nutrition, the science behind behavior changes and helping others improve their outlook on the world. Personally, I have yet to meet a more genuine and a friendly coach who always puts her clients first. If you are looking to break through mental barriers, optimize your nutrition and improve your physical and mental health, I highly suggest choosing Saskia."
Alex Wish
"Taking the first step towards coaching is never easy, but I'm so glad I did. I'm even happier that I ended up with Saskia. She has helped me so much to put things in order, to be less strict with myself and to see the possibilities and opportunities that come by and to do something with them. Saskia, thank you very much!"
Debby Reekers
'Saskia came to me at the time for a PRI process. Rarely have I met a client so motivated to address the things she wanted to change in her life. Open, curious, eager to learn and disciplined, she set to work on the homework. Of course it wasn't always easy. Changing ingrained patterns certainly does not happen overnight. It takes a will to really want to change things and it takes perseverance and a lot of leniency and self-compassion. Because Saskia approached her own issues in this way, I know that she will also guide her clients in this way. Knowledgeable, firm and at the same time loving and with a pleasant dose of humor, which really helps to take the weight off some things. Not to get rid of things, but to normalize things and make them lighter, making them more manageable for the client to handle. In addition, it is very nice to know that Saskia knows through her own experiences what her clients go through, because she knows it from the inside out. The latter is perhaps the most important!'
Sophie Zeestraten, PRI Therapist, Author of the book Moederziel
 'Saskia is an experience expert in the field of food and nutrition and has professionally expanded her knowledge by following and completing the health coach training. Sweet, sensitive and at the same time powerful and professional, she creates a judgment free zone where you get room to grow. I highly recommend her health coaching practice.
Patricia Pereira
SASKIAs
INSPIRATION SESSION
During the 30-minute inspiration session with Saskia, we dive into your personal and professional goals.
This session is an opportunity to clearly define your goals and see how you can achieve them in a way that fits your lifestyle needs.
What are we going to tackle:
Biggest ambitious, realistic goals
Action steps and means to achieve your goals
Lifestyle tips to optimize your time,
Increase accountability and improve overall performance
What working with Saskia would look like
I look forward to seeing you.